Hurricane Aid in Puerto Rico
The Puerto Rican Cultural Society of Charlotte, a 501c3 non-profit organization will be collecting diapers, over the counter medication (Tylenol, Advil, antibacterial cream, triple antibiotic cream, bandages, etc), feminine hygiene products, baby food, baby formula, baby aspirin, flashlights, and batteries in order to provide aid to those affected by Hurricane Maria.
Monetary donations are also accepted – please visit www.prcsc.org to donate and learn more.
Donations will be collected on the following days/locations:
La Isla Bonita Restaurant, 1701 Percival Road, Columbia SC
Saturday, September 30 at Chinchorreo Pa'l Pueblo, 6401 Hickory Grove Road, Charlotte NC
Sunday, October 1 at Restaurant Punta Cana, 5230 South Boulevard, Charlotte NC
Sunday, October 1 at  Compare Foods, 3600 N. Sharon Amity Road, Charlotte, NC
---
¡TODOS SOMOS PUERTO RICO!
ESTAREMOS COLECTANDO DONACIONES ESTOS DÍAS EN ESTOS LUGARES:
VENTA DE COMIDA Y COLECCION DE DONACIONES, DOMINGO 24 DE SEPTIEMBRE, 2017, EN EL LATIN AMERICAN COALITION PARKING LOT, 4938 CENTRAL AVE # 1, CHARLOTTE, NC 28205
SÁBADO 30 DE SEPTIEMBRE, 2017 EN EL CHINCHORREO PA'L PUEBLO, 6401 HICKORY GROVE ROAD, CHARLOTTE, NC.
DOMINGO OCTUBRE 1RO, 2017 EN EL RESTAURANT PUNTA CANA, 5230 SOUTH BOULEVARD, CHARLOTTE, NC 28217
DOMINGO 1RO DE OCTUBRE, 2017 EN LOS SUPERMERCADOS COMPARE DE ARROWOOD Y SHARON AMITY.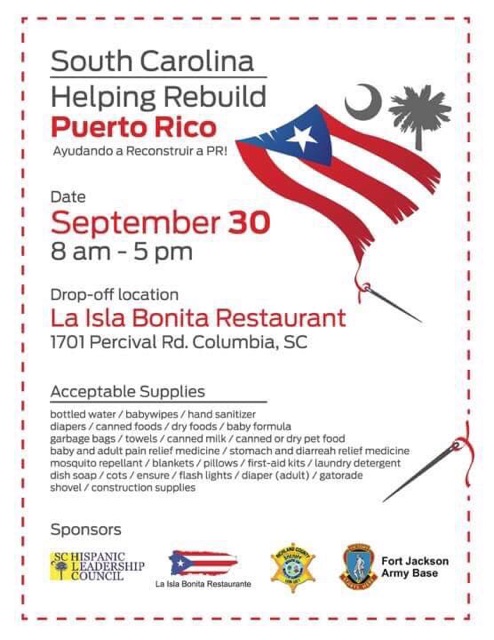 Earthquake Aid in Mexico
El Consulado General de México en Raleigh comunica a la comunidad mexicana que las autoridades de protección civil están identificando las necesidades de los damnificados en México. Una vez que ello ocurra, se determinará el curso a seguir con respecto a los ofrecimientos de ayuda internacional (financiera, humanitaria, de personal, técnica).
Por lo pronto podemos compartir la siguiente información:
Para localizar a familiares podrán comunicarse a los teléfonos:

Locatel al (011-52)55-565-81111
Protección Civil al (011-52) 55-5683-2222
Cruz Roja Mexicana pone a su disposición el programa de Restablecimiento del Contacto entre Familiares para apoyar a las personas que hayan perdido contacto con algún familiar en la Ciudad de México tras el Sismo de 7.1. Para ello, podrán hacerlo a través de los teléfonos (011-52) 55-10844517 y (011-52) 55-10844795.

Para realizar alguna donación monetaria, los interesados lo podrán hacer directamente a la Cruz Roja Mexicana, a través de su sitio de internet: https://www.cruzrojamexicana.org.mx/
Asimismo, le reiteramos a la comunidad mexicana que podrá comunicarse al Centro de Información y Asistencia a Mexicanos (CIAM) en Estados Unidos al teléfono 1855 4636 395, que opera 24 horas al día, los 7 días de la semana.
---
The Consulate General of Mexico in Raleigh, NC informed the Mexican community that authorities are identifying the needs of victims in Mexico. Once this happens, a course of action will be determined for international aid efforts.
For now, the following information can be shared:
To locate family members, contact the following numbers:

Locatel (011-52) 55-565-81111
Civil Protection (011-52) 55-5683-2222
Mexican Red Cross is offering the Restoring Family program to support those who have lost contact with family members in Mexico City after the earthquake. (011-52) 55-10844517 or (011-52) 55-10844795

To make a monetary donation, please donate directly to the Mexican Red Cross at https://www.cruzrojamexicana.org.mx